Festive Fizz: Champagne for the Holidays
There's nothing like the Pavlovian pop of a champagne cork to put you in the holiday spirit. It's like the starting gun for a season of celebration, from the office Christmas party—where you sneak a kiss with your work crush, emerging from the supplies cupboard peeling sticky notes from unlikely places—to New Year's Eve, when you slip on your glitziest glad rags and reach for the classiest of accessories: a chilled flute of champers.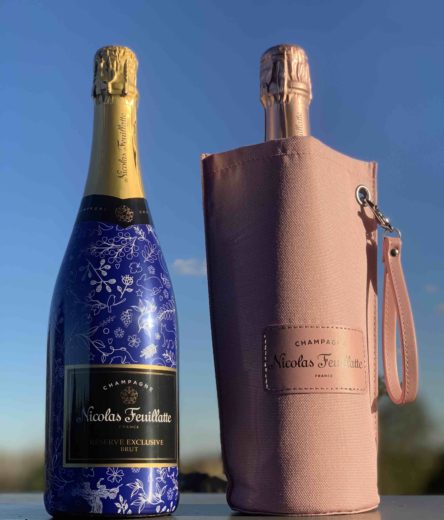 But with supermarket shelves literally overflowing with fizz at this time of year, you might feel a headache coming on simply deciding on a bottle. This year, old St. Nick himself offers a few inspired solutions to your bubble troubles.
I refer not to Santa Claus—although with those red cheeks, I suspect the jolly old elf knows a thing or two about the subject. No, my friends, I speak of Nicolas Feuillatte, the number one best-selling champagne brand in France and third around the world.
Here are two elegant options from Nicolas Feuillatte's new 2018 Festive Gift Range.
Enchantment Sleeve Réserve Exclusive Brut – £26
Wrapped in a cobalt blue sleeve etched with fanciful woodland scenes featuring foxes and hares, snowflakes and four-leaf clovers, this bottle of multiple-medal-winning Réserve Exclusive Brut seems to promise a wintry trip down Alice's rabbit hole.
It sparks the imagination even before you unleash this refreshingly crisp, effervescent nectar, a blend of 20% chardonnay, 40% pinot noir, and 40% meunier, aged for a minimum of three years and well worth the wait.
Travel Bag Réserve Exclusive Brut Rosé – £35, John Lewis
Headed to a friend's holiday party? You've got the hostess gift in the bag. Just grab a bottle of Nicolas Feuillatte's Réserve Exclusive Rosé, pretty in a specially-made pink insulated sleeve.
Sure, this bottle's a beauty, but, just like your mama always said, it's what inside that counts. Fortunately, this blend of 10% chardonnay, 45% pinot noir and 45% meunier delivers with a fruit basket of flavours, ranging from raspberry and redcurrant to strawberry. You just know this must be the Sugar Plum Fairy's tipple of choice.