Go With The Grain: Embrace Bain's
"The end is nigh." Lovers of malt whiskies have been hearing this for a while now, as growing demand for premium aged spirits allegedly threatens to outstrip supply. But should the rumoured apocalypse ever materialize, at least one unlikely saviour has emerged. A grain whisky. From…South Africa.
It's called Bain's Cape Mountain Whisky, and it scooped the title of the World's Best Grain Whisky at the 2018 World Whisky Awards—for the second time in five years. That's particularly impressive kudos for a brand which only launched in 2009.
But here's the real surprise. While Bain's rests in ex-bourbon casks for just five years before bottling, it's a smooth, sweet, saucy little sophisticate—a mere babe in the whisky woods that is remarkably mature for its age. Lamb dressed as mutton, in the nicest possible way.
I'll give you a moment to adjust your dislocated jaw, which is probably bruised and bloodied from that long drop to the floor. Because when you think of well-rounded, world-class whisky, "Africa" and "grain" are two words which probably don't immediately spring to mind.
To understand what sort of distillery sorcery is at work here, I attend a tutored tasting at London's Ten Trinity Square. The event is hosted by bewhiskered whisky writers and presenters, Joel Harrison and Neil Ridley of World's Best Spirits, and special guest Andy Watts, winner of the 2018 Global Icon of Whisky Master Blender Award and the founding distiller of Bain's.
A former Derbyshire professional cricketer, Watts spent four years in Scotland learning whisky making from legends like Jim McEwan. In 1991, he was appointed manager at the James Sedgwick Distillery, where he now serves as Head of Whisky Intrinsic Excellence. And what's that when it's at home, then? "Basically, it means I'm responsible for what goes inside our bottles," Watts explains with a sheepish smile.
"For all intents and purposes, Scotland and South Africa produce the same products," he continues in the soft, clipped tones of his adopted country. "But we don't have 500 years of tradition. Our industry is just over 40 years old, so I knew that would allow us to be more innovative."
In that, yes, spirit of innovation, Watts began to experiment with ways to improve grain whisky. "When I came up with the concept of Bain's in 1999, the idea was to create something that was soft and smooth, easy to drink, with a nice sweet note to it," he explains.
He already had a ready supply of one key ingredient—South African yellow maize. Once used to produce nearly all of Scotland's grain whisky, the crop has a natural sweetness that's apparent when we sample Bain's raw spirit.
"You might know it as moonshine or white lightening," Watts says, twirling the clear fluid in a glass. "In South Africa, we call it 'barbed wire. But to be perfectly honest," he says, "I've tasted worse vodkas than this!"
This nascent nectar is just the beginning of the process. It will take another five years—still just the blink of an eye, in whisky terms—to transform a wouldn't-kick-it-out-of-bed raw spirit into the silky beauty of bottled Bain's.
First, Watts ages the spirit for three years in first-fill ex-bourbon barrels—that is to say, American oak barrels which have housed only one run of bourbon. This allows the new-make Bain's spirit to absorb not only flavours left behind by the bourbon, but also a heavier concentration of vanilla and sweet notes imparted by the relatively fresh oak, as opposed to tired barrels which have been reused multiple times.
Then Watts does something quite unusual for the industry. After three years, he transfers the spirit to a second set of first-fill ex-bourbon barrels, where it ages for an average of two more years.
"With that two extra years in the second set of new fill casks, it softens down, even on the nose," Watts says, taking a heady whiff of the finished product, with its rich bouquet of butterscotch, banana, toffee, and toasted hazelnuts.
"It's remarkably flavoursome," Harrison say. "I get the element of barbecued marshmallow, with that lovely soft creaminess, but with a beautiful sort of caramelised note coming through."
Beyond the barrels, Bain's also owes much of its smooth, sensuous mouth feel to the sultry South African climate. "Because of the higher temperature, the interaction between the wood, the spirit and the atmosphere takes place at an accelerated rate," Watts explains.
So, whereas whisky casks in Scotland might lose about two percent of their liquid volume each year to evaporation and absorption, Bain's loses 4.5 to 5 percent to "the angel's share."
"Accountants want you to wrap the casks in cling film and do anything you can to keep the whisky in there," Watts admits. "But the fact of the matter is, we believe it has its benefits. With the interaction taking place quicker, the whisky portrays itself as being softer, smoother, more elegant at a younger age."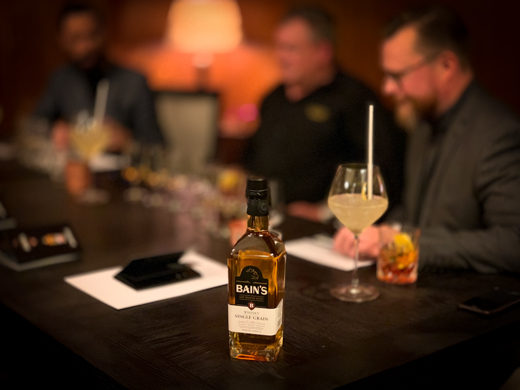 That's my cue to close my eyes and lift the glass, welcoming the warm, wet tongue of liquid heat. It slips past my lips and fills my mouth with a delicate balance of sweet vanilla and naughty spice, like a lingering, cocoa-buttery French kiss.
Bain's might be young, but this seductive spirit is definitely experienced beyond its years.