Category:
France
There's nothing like the Pavlovian pop of a champagne cork to put you in the holiday spirit. It's like the starting gun for a season of celebration, from the office Christmas party—where you sneak a kiss with your work crush, emerging from the supplies cupboard peeling sticky notes from unlikely places—to New Year's Eve, when you slip on your glitziest glad rags and reach for the classiest of accessories: a chilled flute of champers.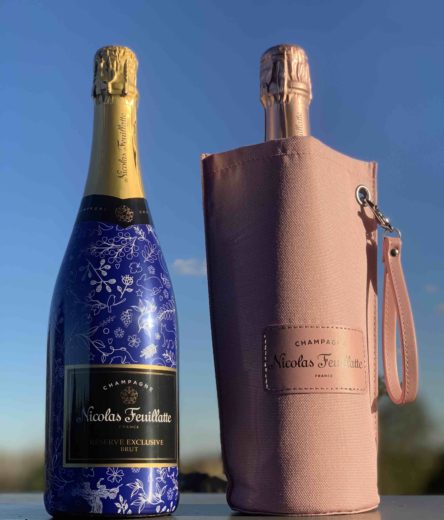 But with supermarket shelves literally overflowing with fizz at this time of year, you might feel a headache coming on simply deciding on a bottle. This year, old St. Nick himself offers a few inspired solutions to your bubble troubles.
I refer not to Santa Claus—although with those red cheeks, I suspect the jolly old elf knows a thing or two about the subject. No, my friends, I speak of Nicolas Feuillatte, the number one best-selling champagne brand in France and third around the world.
Here are two elegant options from Nicolas Feuillatte's new 2018 Festive Gift Range. (more…)
I'm sitting beside a pool in the Bay of Biscay, sipping a gin and tonic as a Thai band plays a vigorous rendition of Van Halen's "Jump." A life-sized Barbie in a black-fringed thong bikini has just lowered herself into the water, no doubt inducing heart palpitations and several cases of whiplash among the men relaxing on the Lido Deck loungers around me.
That might seem like sufficient excitement for one afternoon, but all eyes are directed upwards when a crimson-coloured helicopter appears overhead, dangling two black-clad men from cables. For a moment, I wonder whether our ship—Crystal Cruises' Crystal Serenity—is being commandeered by airborne pirates. But no, these two naval ninjas are deposited aboard the bridge to navigate our vessel up-river to Bordeaux.
If anyone feared that our days at sea might be, well, a bit too serene, we've just discovered that shipboard life is full of the unexpected. Perhaps they should consider rechristening the boat the Crystal Surprise. (more…)
← Previous page