Despite being officially dubbed one of the happiest places to live in the UK, the Isle of Harris off the northwest coast of Scotland is battling a serious buzz kill. That is to say, there are fewer and fewer people living there to enjoy all that happiness these days.
The population has halved over the last 50 years, shrinking to less than 2,000 residents. But…why?
Because, despite producing the renowned Harris Tweed, employment opportunities in the isolated Outer Hebrides are scarcer than the remaining hairs on Sean Connery's head.
So, what are these industrious islanders doing to kick-start this party, y'all? Opening a distillery entirely staffed by locals and brewing some hooch, of course.
Naturally, you might assume that by hooch, I mean "Scotch," this being Scotland and all. While that is indeed part of the long-term plan, Scotch whisky must age at least three years in oak barrels by law.
That's why Isle of Harris Distillers has taken their initial step into the spirit world with Isle of Harris gin. (more…)
When my diminutive bottle of Dà Mhìle seaweed gin arrived this week in the post, I wasn't sure what to expect of it. I know that it's organic, that it's made from seaweed gathered on the beach at New Quay in Ceredigion, Wales, and that this boutique brand officially launches on 1st March.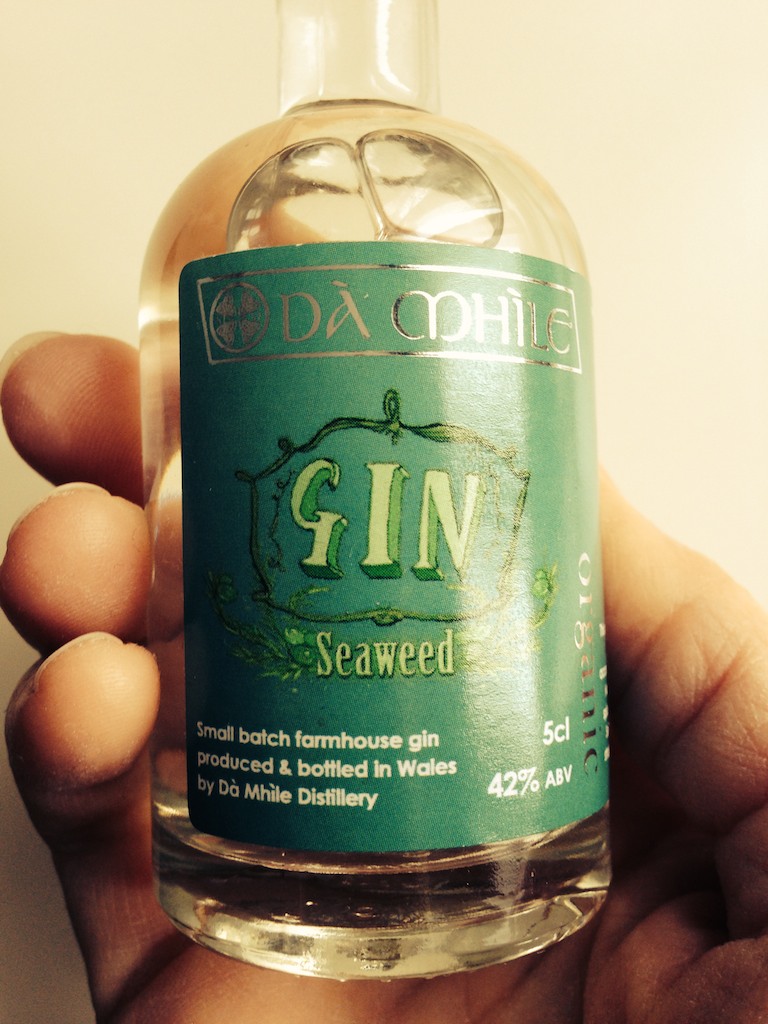 Yes, yes, yes…but would I actually like it?
So for two days, it has sat on my kitchen shelves amongst the half-filled (okay, mostly empty) bottles of whisky, cachaca, elderflower liqueur, absinth, rum, Campari, more gin, and Harvey's Bristol Cream of questionable origin. (For the life of me, I don't remember where the sherry came from, but there it sits, gathering dust and daring me to pour it down the kitchen sink).
But now it's Friday, and I'm feeling that familiar weekend recklessness coming on.
Time to pop the cork—or rather, unscrew the little gold cap—on my mysterious sample of gin. Dà Mhìle has been drafted for active duty. (more…)
Okay, children of the 80s. Does anyone out there remember those old Reeses Peanut Butter cup commercials featuring improbable mishaps between slippery chocolate bars and peanut butter jars?
"Hey, you got your chocolate in my peanut butter!" "You got your peanut butter on my chocolate!" the offended parties exclaim after colliding on a random street corner, tumbling down a flight of stairs, or bumping into a robot on a space ship's elevator. (Indeed, it beggars belief, but I've got YouTube to back me up here).
The only thing more unlikely than any of these pratfalls actually occurring—while one party is nose deep in a tub of peanut butter, no less—is that anyone could ever have doubted that the culinary union of these two delicacies would result in gastronomic bliss.
The notion of mixing chocolate with gin, however, requires considerably more imagination. Yet a G&C (gin and chocolate, that is) may be equally destined to become a classic, as I recently discovered. (more…)