Istanbul: Giving Thanks for the Kindness of Strangers
---
"Not again," I thought, when I heard about the terrorist attack at Turkey's Ataturk airport. "Not Istanbul." I have friends there, you see–some of whom I keep in touch with on Facebook, and others whose names I never knew, but who treated me with unexpected kindness I'll never forget.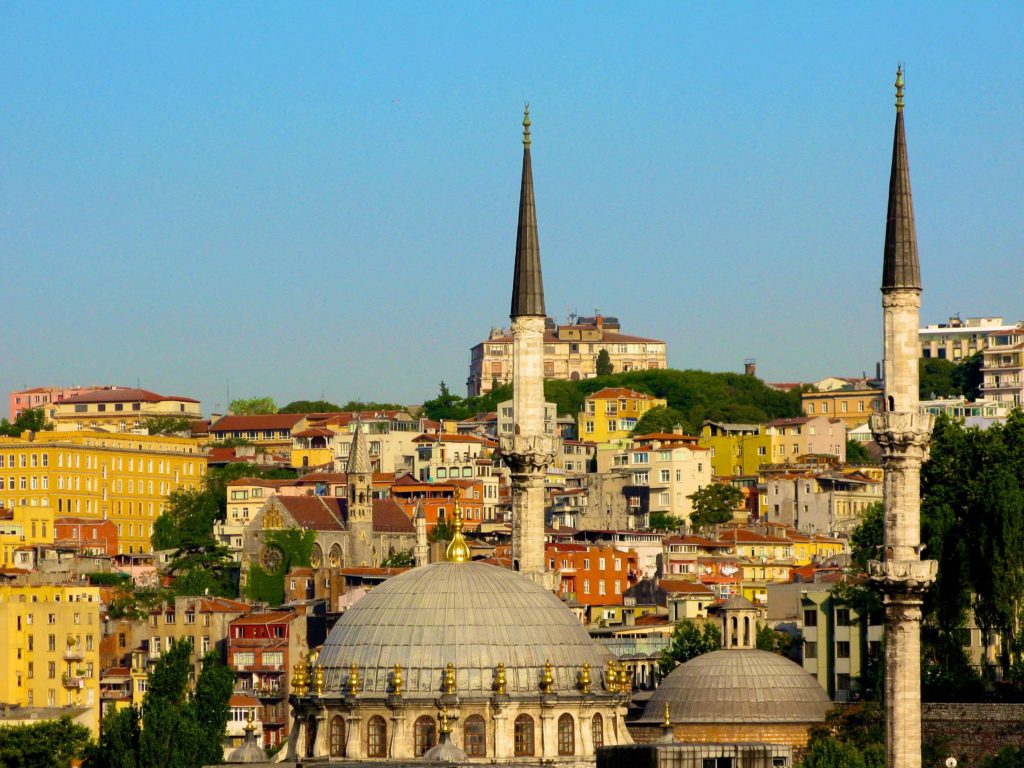 I don't know what your perception of this city might be, but I admit that the first time I visited on a brief cruise ship stopover, I felt I'd been there, done that, bought the rug.
Yet I'd heard so many people rave about Istanbul, I wondered if they were simply smokin' from a different hookah, or if perhaps I had missed something during my whirlwind tour of "must see" sites: the Hagia Sophia, Topkapi Palace, Dolmabahce Palace. It was architectural overload, like staring at the sun.
Don't get me wrong. Istanbul's wonders are worth visiting, particularly the Blue Mosque, where worshipers pray five times a day. But for the most part, the de rigueur list barely scratches the surface of what I had come to suspect might be the true spirit of this city, where residents respect their history, but live, love, work, dance, play and party in the present.
So I went back. I slowed down. I walked. I wondered. I got lost…more than once, actually…and I let Istanbul weave its spell around me. Most of all, I took time to meet the locals, and I was utterly charmed by their warmth, hospitality, and joie de vivre.
I want to share a few of those random moments with you. These are the memories I cherish from my last visit, and the reasons why my heart breaks now when I hear how its citizens have suffered yet another tragic blow.
The shoe shine man who could restore anyone's faith in humanity.
When I saw him sitting in the shade of a busy street, I paused to ask why youths were performing at a bandstand in traditional Turkish dress, and why television cameras were set up across from his stand. But here we reached an impasse, because I speak almost no Turkish, and he spoke almost no English. "German?" he asked, struggling for some common language. I shook my head. "French?" I suggested. He shrugged helplessly.
In the end, though, we had the nicest of chats, because it wasn't really the words that mattered. It was that feeling of instant, inexplicable camaraderie.
He beckoned me to sit while he showed me photos of his family, smiling proudly beneath his mustache. I smiled back. He offered me water. I produced my own bottle but patted his arm in thanks.
We sat side-by-side together for perhaps half an hour, until a distinguished looking gray-haired gentleman emerged from a doorway and the television crews went wild. My new friend grabbed my arm and pulled me over to meet him, insisting I shake this man's hand before he did the same.
He was obviously delighted to have offered me this introduction, although whoever that celebrity was remains a mystery to me.
That well-groomed silver fox might have been a politician, or an actor—Turkey's answer to George Clooney. But it was the connection I made with this generous stranger, the shoe shine man, that held such significance for me.
The woman who stopped in her tracks to give me directions.
I hadn't even asked, but she saw me standing on a corner, squinting at a map and looking confused…as usual. (I wouldn't know up from down if it weren't for gravity). She set me to rights, gathered up her shopping, and scurried off with a parting wave.
The taxi driver who offered me a free ride.
I was walking down a long, steamy road, melting beneath waves of heat emanating from the asphalt like an open oven door. When I finally spotted a cab, I gestured as frantically as a woman hailing an ambulance—which, in a sense, I was. The cabbie pulled over and immediately struck up a friendly, non-stop conversation.
"Where are you from? Germany? America–USA? You like cowboy?" he said, his rapid patter unbroken by drawing breath.
"Sure, everyone likes the Dallas Cowboys," I replied.
"I am cowboy," the driver pronounced with a square-jawed smile, his hands gripping the steering wheel as firmly as a set of reigns. So perhaps he fancied himself more of a wild west wrangler than a quarterback, but before I could ask, he had already changed the subject.
"When do you go back?" he rattled on, then shook his head, which–in my mind–now bore a ten-gallon hat. "No, you don't go back. You stay!" he grinned, just as we pulled up at my destination.
I informed him with a regretful sigh that I would be leaving the next day, and asked him how much I owed.
"Three, four lira," he shrugged. "You have no money, no pay. No problem."
I did indeed have the money, though, and I handed it over with a hefty tip before bidding adios to my freshly minted Turkish amigo.
The energy of Istiklal Caddesi.
From Burger King to Benneton, Starbucks to Topshop, Diesel to doner kabobs, you'll find it all on this bustling boulevard. Here, too, I witnessed moments that are uniquely Istanbul, like ice cream vendors dressed like turbaned sultans doling out dairy dollops with a magician's slight of hand and an elderly man selling watermelons from the back of a horse-drawn cart on Galip Dede Caddesi, which intersects Istiklal to the south.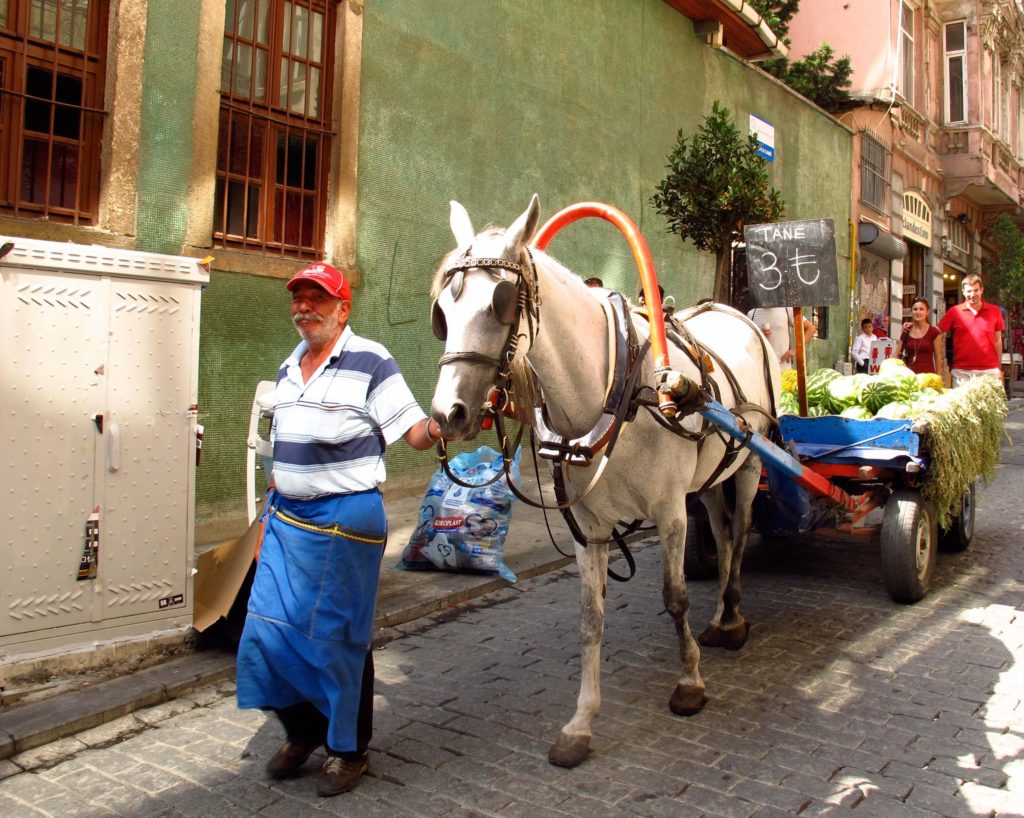 But what impressed me most was the feeling that, just as Istanbul straddles the border of Europe and Asia, this endlessly unfurling avenue is a crossroads where East really does meet West. I saw all walks of life, from tourists toting backpacks and girls in short, breezy dresses to women modestly clad in burkas—and no one seemed bothered by their differences. It gave me hope that maybe we really can all get along.
Then, on March 19, 2016, a suicide bomber blew himself up on this very street, taking not only his own life but four others, as well, and injuring dozens. It was the fourth suicide bombing in Turkey this year, including another deadly blast near the Blue Mosque and Hagia Sophia in January.
Now this. Now Ataturk Airport. I hope and pray that the soul and spirit of Istanbul will survive.