Christie Country: Agatha Christie's Legacy Lives on in Coastal England
Headed to the International Agatha Christie Festival in Devon this September 13-17? It would be a crime to miss these top attractions.
On an isolated promontory above the River Dart, a Georgian mansion hunkers down amid dense, tangled woods and gardens.
Tucked well away from any major road, it seems like the perfect place for a murder. In fact, it's been the scene of several.
One man perished of hemlock poisoning in the garden. A girl was strangled in the boathouse, and a body was once concealed in a studded chest that dominates the hallway.
Fortunately, those dark deeds took place only in the fertile imagination of Agatha Christie, who featured her holiday home, Greenway, in Five Little Pigs, Dead Man's Folly, and Ordeal by Innocence. The trunk was also a key element in her short story The Mystery of the Spanish Chest.
Located half an hour south of Torquay, the English Riviera town where "the Queen of Crime" was born on September 15, 1890, Greenway will look familiar to fans of the Hercule Poirot mysteries.
David Suchet, who played the brilliant, mustachioed Belgian detective for 13 seasons,  filmed one of his last episodes, "Dead Man's Folly," here in 2013.
But beyond the macabre thrill of finding yourself at a fictional murder scene, visitors to the home have a rare opportunity to read between the lines and ferret out fascinating clues about the famous—and famously shy—Dame Agatha.
Greenway passed to the National Trust after the deaths of Christie's daughter and son-in-law, Rosalind and Anthony Hicks, and it is still filled with poignant trappings of the family's private life, from old black-and-white photos right down to clothing in the closets.
In the drawing room, richly furnished with Kashmir carpets and Chinese vases, Christie used to write her letters, edit her manuscripts, and read her latest book aloud to her family, with her husband, archaeologist Max Mallowan, nearly always guessing "who-done-it" before the final page. She also sang and played a grand piano that presides over one corner of the room, although she didn't like to perform before an audience.
One thing you won't find, though, is a TV. "She hated TV—wouldn't have one in the house," reveals a guide. "She wanted family to interact and talk to each other."
There are, however, plenty of books. Christie was an avid reader, and there are more than 4,000 tomes throughout the home. In the library, shelf-lined walls brim with a wide range of material, from an index of garden plants to a collection of Charles Dickens' work and Christie's own novels. Upstairs in a former office, an old typewriter hunkers down upon a marble desk, and horticultural books sit alongside texts on Confucianism.
The bedroom contains a replica of the bed Christie slept in, alongside a twin-sized campaign bed that accompanied her husband Max on his archeological excursions. A dressing room is filled with vintage dresses, and the door to the bedroom still bears scratch marks from the family dog trying to claw his way inside.
It all appears unexpectedly, deliciously lived-in, leaving guests feeling a bit like Goldilocks, having a tramp around the three bears' cottage while they've nipped off to the honey hive.
Even the bathroom, with its red leather bound copies of Lady's Magazine from the late 1700s and early 1800s, seems so recently occupied that the seat of the wooden mahogany "thunder box" might still be warm.
The best bit for Christie aficionados is that you can actually sleep here. Yep. Greenway has made provision for folks to stay overnight. The property encompasses three accommodations: a five-bedroom apartment within the house, with views of the River Dart; the three-bedroom South Lodge, formerly the head gardener's house; and the intimate one-bedroom Lodge at Greenway near the entrance of the estate.
The only problem with bunking down at Greenway? You might feel compelled to sleep with one eye open. 
MORE ATTRACTIONS FOR DAME AGATHA DIE-HARDS
The Agatha Christie Mile along Torquay's Tor Bay features ten landmarks linked to the author. One of its chief attractions is  Torquay Museum.
Fans would kill to see the museum's Christie collection, which includes an original manuscript, her handwritten notes, first editions, and costumes, props and a recreation of Hercule Poirot's elegant Art Deco study and lounge from the television series.
Continuing along the mile, you can also check in at Imperial Hotel, which appears in both Peril at End House and Sleeping Murder; and the Grand Hotel, where the novelist spent her honeymoon.
Readers can further explore the author's world on the Agatha Christie Literary Trail. Winding through South Devon, the route covers nearly 20 key sites that inspired the author, including the legendary Greenway.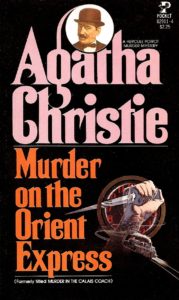 The International Agatha Christie Festival, held each September in Torquay, also presents an annual opportunity to meet mystery writers and Christie experts and to participate in writer's workshops and elegant vintage-dress events.
IF YOU GO
Getting there: From London, Torquay is about three to three-and-a-half hours by National Rail.
Tourism information: 
English Riviera, Visit Britain, Visit England