About Me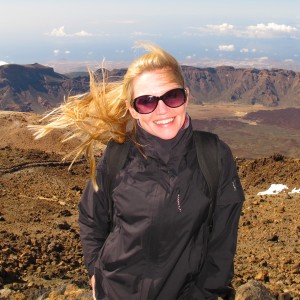 "If all your friends jumped off a bridge, would you do it, too?" Well, probably, Mom, if I thought it would make a good story…and if I was sure the bungee cord was tied on really, REALLY tightly.
As a London-based journalist, photographer — and natural coward attempting to conquer my fears through my travel adventures — I've paraglided 007-style in the Swiss Alps, walked with lions in Mauritius, swum with sharks in French Polynesia, and dangled from chains on Scotland's Fife Coastal Path.
My most terrifying challenge, however, was taking ballroom dance lessons in London. Fortunately, that's the only incident that nearly ended in a bloodbath.
Beyond travel, I love to cover spirits—the kind you drink, that is, not the ones that go bump in the night. I've also worked as a television news producer in the Cayman Islands, as a freelancer for People and Teen People magazines, and as a contributor to Better Homes and Gardens and other architectural magazines. The Lyons Press published my book, "The Orvis Book of Cabins," which is available on Amazon.
The sidebars to the right feature links to:
– Some of my published travel articles, which have appeared in UK, US, and Canadian newspapers and magazines
– Recent blog posts
– Photography websites where you can view and purchase my photos
Specialty topics: Travel writing and photography; wine, beer and spirits; home design and decor.